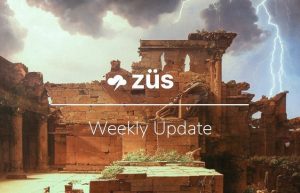 Happy Wednesday! Tomorrow we will be hosting another Cloud Cover AMA with our founder Saswata Basu (Ecclesia #3), on December 1st at 10 am PST. If you missed the previous episode, Saswata talked more about tokenomics, building with Züs, and even shared some of the results of our load tests. You can watch the episode here.
Global Consumption of data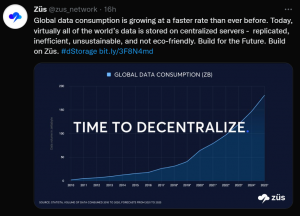 With the global consumption of data growing at an astonishing rate, the need for decentralized storage has never been so important. Züs is coming to provide a much more eco-friendly alternative to centralized counterparts and to empower people and businesses with data ownership and security.
Blockchain Team Updates
Last week, the blockchain team focused on fixing the slow chain on chaos testing, which was mainly caused by the slow state syncing and computing after restarting the nodes. This issue was fixed by improving the state syncing process and then improving the block verification and maintaining the stability of the block notarization speed. With this fix, the larger network was now able to function well without any round timeouts. In addition, the team refactored and optimized the collect reward smart contract event database, and updated several APIs to adjust the changes that are required by clients. They also worked on the staking issue to be merged soon and started reviewing the PRs for the allocation repair issue.
Check for more details below:
Fixed the slow chain on the large network with chaos testing on. Refactored event database EventTags and EventTypes to support the stringer interface and allow enhanced logging. Merged a fix to collect one stake pool at a time, and the MPT to update the balance to zero each time and removed the redundant user stake pool in this PR to reduce the MPT space usage and read/write operations. Also, the team updated the APIs to return the uncollected service charge for blobbers and validators, made a fix to reset the magic block in each test interaction in conductor tests, and fixed a pagination issue on getting blobbers on gosdk.
In addition, there is a staking issue being refactored that is about to merge, and there are some PR for allocation repairing changes, WIP, and under code review that you can check below:
https://github.com/0chain/0chain/pull/1791
https://github.com/0chain/gosdk/pull/637
https://github.com/0chain/blobber/pull/870
Züs is in the news!
Vogue business asked for the expertise of the Zus founder and CEO, Saswata Basu on the subject of What the crypto crash means for Web3 fashion developments.
Read our most recent articles:
Blockchain Technology, crypto's underlying technology, remains strong.
How asset-backed cryptocurrency solves the main criticism of crypto.
Data breaches are on the rise – but decentralized storage can help