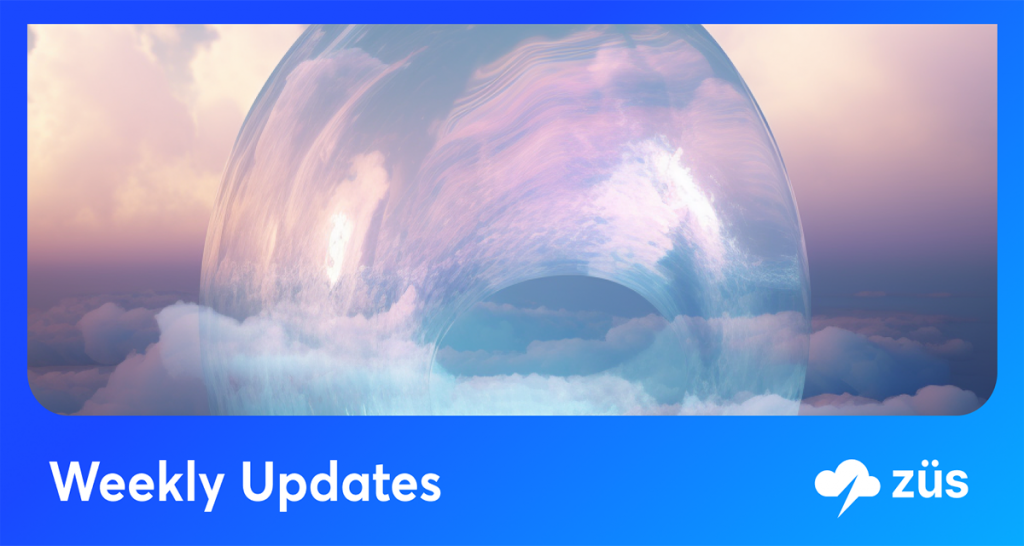 Cloud Cover AMA:
We are thrilled to announce the upcoming episode of our bi-weekly Züs Cloud Cover AMA, Ecclesia #21, scheduled for tomorrow, Thursday, August 10th, at 9 AM PST. Join in as Saswata unfolds the latest advancements towards the Züs Mainnet, including insights on our Active Set testing phase. Also, learn how businesses gear up for imminent challenges, ensuring they harness the full value of their data by adopting distributed data storage.

Your participation is invaluable to us! We encourage you to share your questions via our Discord channel or Telegram.
Mainnet Update:
Active Set testing was delayed as we adjusted server allocations among different providers to enhance network security. The testing is set to begin, possibly as early as next week. This phase is especially exciting for us, marking a significant step closer to Mainnet with promising times ahead.
Read Züs' most recent article:
Why Distributed Data Storage Is Crucial for Businesses?
In today's digital age, businesses accumulate data at a staggering pace, which is crucial for insights, decision-making, and driving innovation. But managing such vast volumes presents storage challenges. Distributed data storage provides a remedy, offering scalability, heightened reliability, reduced latency, superior security, cost-effectiveness, and easier compliance. The Züs Network stands prominently in this sector, using blockchain to furnish businesses with decentralized storage, anchored by a unique consensus protocol. By adopting distributed storage, businesses gear up for imminent challenges, ensuring they harness the full value of their data in an increasingly data-driven landscape. Dive deeper to uncover how this transformative approach to data storage can redefine the trajectory for modern enterprises. https://zus.network/blog/posts/why-distributed-storage-is-crucial-for-businesses/
Blockchain Updates:
Last week, the blockchain team primarily focused on DEX smart contract auditing and addressing issues in Chalk and the 0chain backend.
The DEX smart contract auditing comprises three main steps. The first step involved multiple code reviews. In the second step, tools were employed to assist in code analysis and the identification of vulnerable code segments. Over the past week, the team used slither for code analysis and addressed all the reported issues. Although a majority of the reports were false positives, they illuminated several areas ripe for improvement. The third and final step involves utilizing Echidna for fuzzing tests. For both steps two and three, GitHub actions were incorporated to run tests automatically when new commits are made or PRs are opened.
Chalk Updates
Significant stability improvements were noted in Chalks compared to the previous week. An issue with the royalty setting was rectified, enabling royalty settings during NFT creation. This implies that if an NFT is listed for sale on OpenSea, the NFT creator receives payment with every sale. Additionally, a mint price discrepancy was resolved; previously, the mint price utilized an incorrect unit. Instead of charging 0.01 ether, only a nominal token amount was needed. This problem arose from a failure to convert the 0.01 ether to wei when invoking the contract function.
Furthermore, several PRs in the 0chain and gosdk repositories were addressed:
Distributed Data Storage is the future.
Thank you for taking the time to learn more about our updates and what distributed storage can do for businesses. We invite you to join us tomorrow for our AMA and ask all of your burning questions. We look forward to hearing your questions and feedback.