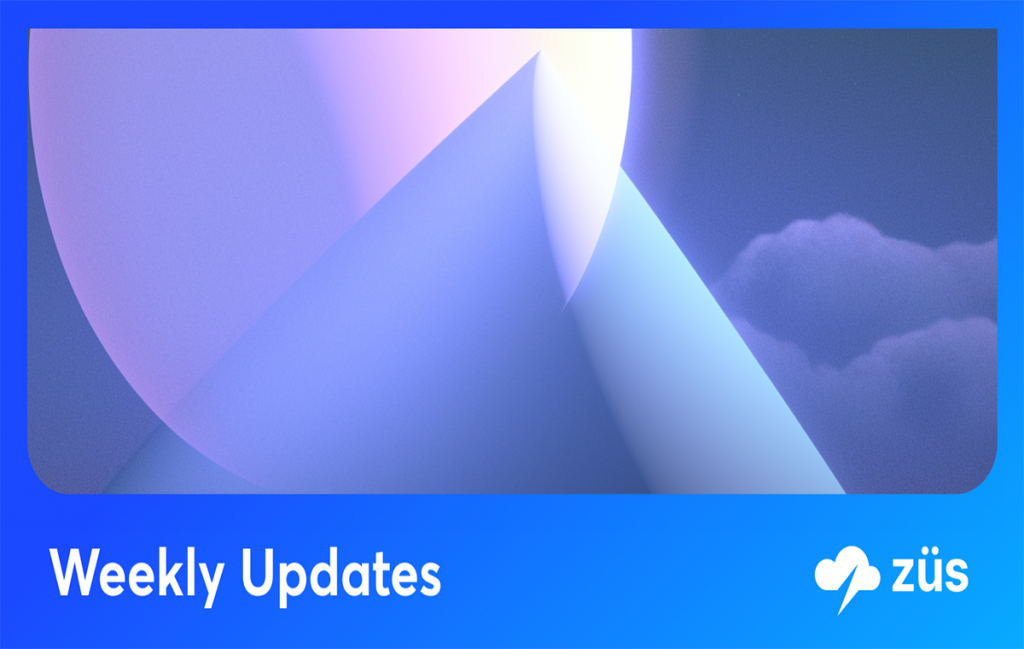 Cloud Cover AMA | Blimp's Features:
Mark your calendars for our upcoming Züs Cloud Cover AMA: Ecclesia #23, scheduled for tomorrow, September 14th, at 9 AM PST. Join Saswata as he provides a deeper look into the developments of Mainnet and the Active Set. We truly value your engagement in these sessions. Please share your questions and feedback on our Discord or Telegram channels in advance. Dive with us into the details of Blimp's Features and, Züs are shaping the future of multi-cloud storage.
Storm of the Week:
Highlighting Key features of Blimp
As many of you are already aware, Blimp's features are our cutting-edge multi-cloud storage platform that's rapidly approaching its official launch. Designed to elevate the cloud storage experience, Blimp offers unmatched performance and security that caters to diverse enterprise requirements – be it AI applications, extensive data lakes, database operations, or efficient backups.

What Makes Blimp's Features Shine:

No Vendor Lock-In: Blimp's Züs protocol, coupled with free egress, ensures you have the utmost flexibility in your operations.
Uncompromised Security: Features like immutability, advanced encryption, and proxy re-encryption make Blimp the gold standard for data protection, especially crucial for AI processes.
Customized Storage: Customize your storage shards to align with unique business priorities, finding the perfect harmony of redundancy, speed, and cost.
Hybrid Solutions: Seamlessly merge your resources with top-tier network providers for an enhanced experience in terms of security, speed, and value.
Transparent Pricing: With Blimp, you pay solely for data storage, removing unexpected charges related to requests or egress.
Always Accessible: With promises of zero RPO and RTO, Blimp ensures your data is always within reach.
S3 Compatibility: Transitioning your S3 data to Züs is a breeze, without any code tweaks.
Privacy at its Best: With a focus on distributed data across providers and the incorporation of proxy re-encryption, Blimp stands as a paradigm of unmatched privacy and effortless file sharing.

Blimp's potential to revolutionize the cloud storage space is palpable. Keep an eye out for more in-depth insights and updates as the launch date draws nearer!
Blockchain Update:
The blockchain team focused on the Live Test on the dev network, as well as on the integration of a feature allowing Bluetooth communication between the zauth desktop APP and mobile bolt APPs. Furthermore, the team embarked on resolving a video streaming transcode issue.

Numerous PRs and issues in backend repos were addressed. Details are provided below:

The Live Test is divided into two primary components:

1) DEX contracts testing for Bolt.
2) NFT contracts testing utilizing 0box APIs for the Chalk App.

The DEX contracts have been successfully tested.
While some UI issues persist, the contracts are operational. Several challenges arose during the DEX testing:

The Bridge contract was deployed with an erroneous ZCN token address. The recommended address is 0xb9EF770B6A5e12E45983C5D80545258aA38F3B78. Interestingly, the new ZCN token addresses functioned well in the mumbai testnet but triggered an invalid token error in the mainnet when invoking the bancor trade API.
Misconfigurations in the bancor trade contract in web-apps were identified. There were discrepancies in the contract ABI parameters and a missing parameter.
The computed maxSourceAmount based on the zcnEthRate often fell short of the required value. This shortfall led to errors when executing the tradeByTargetAmount contract.
A requirement was identified to deposit ZCN into the bridge contract, enabling the transfer of tokens when invoking the mint function.

The next phase involves testing the NFT contracts for the Live Test, scheduled for the upcoming week.
As for Bluetooth integration between mobile APPs and the zauth desktop App, the delay issue during data transmission in chunks has been resolved. The root cause was a data size limit in Bluetooth for each transmission. This issue has been fixed, reducing data transmission time significantly. Additionally, setupCharacteristic and transactionCharacteristic have been established in zauth, facilitating data acceptance and parsing.

Regarding the IOS mobile Bolt app, enhancements have been made to the QR scan code to relay setup data via Bluetooth.

The following PRs were merged:
The blockchain team extends gratitude for the continued collaboration and feedback from the community. Together, advancements and refinements are being made consistently to enhance the ecosystem. The forthcoming week is expected to be filled with further developments, and updates will be shared promptly.
Blimp's features the missing piece in the end-to-end solution of enterprise data storage.
Blimp delivers an unparalleled cloud storage experience with features such as our multi-cloud platform, no vendor lock-in, uncompromised security, customized storage, hybrid solutions, transparent pricing, always accessible data and S3 compatibility. We have worked extremely hard to make sure that Blimp meets every organization's needs and requirements. Moreover, we are committed to continuously improve upon our offering and make it the undisputed leader in the market. With the added benefit of being able to offer organizations complete control over their data and storage solutions without sacrificing performance or security along the way – It is no wonder that more and more people are choosing Blimp for their cloud storage and AI needs. Join us tomorrow on Youtube for an AMA about the features of our platform – we are looking forward to answering your questions!


Thank you for staying engaged with our progress.