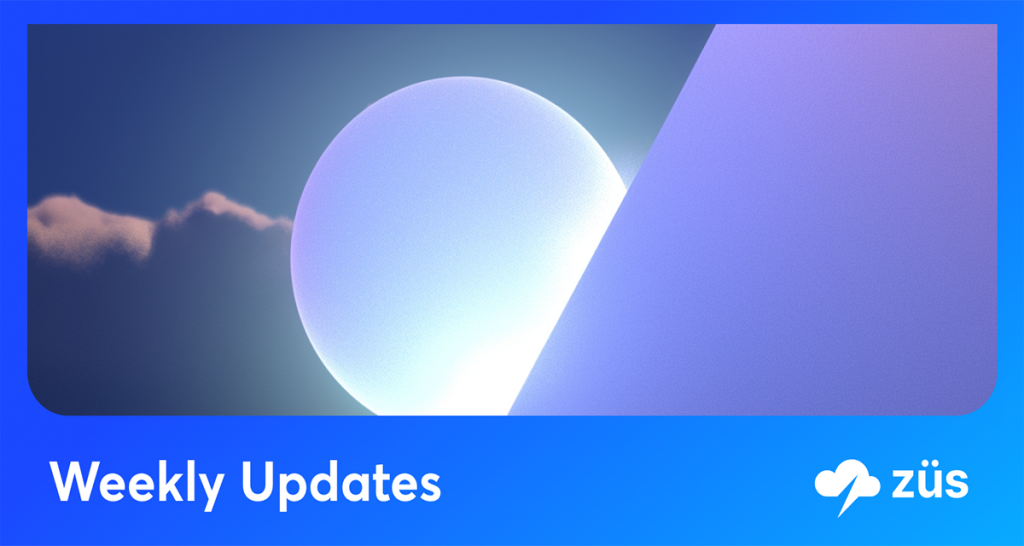 Cloud Cover AMA:
Exciting times ahead! Mark your calendars for the next installment of our Züs Cloud Cover AMA, Ecclesia #22. It is happening tomorrow, Thursday, August 24th, at 9 AM PST. Dive deep into the recent strides towards the Züs Mainnet with Saswata, where he will shed light on the Active Set testing phase and more. Your engagement is what makes these sessions special. Drop your questions and thoughts on our Discord or Telegram and be part of the conversation! Also, learn more how Züs is changing the future of multi-cloud.
Storm of the Week:
Züs: The Future of Multi-Cloud and An Alternative to AWS and Cloudflare
Did you know Züs is pioneering the shift towards multi-cloud? While platforms like AWS and Cloudflare have dominated the scene, Züs is emerging as a formidable contender.
At its core, Züs offers multi-cloud storage designed specifically for AI, acting as a decentralized hub for both object and file storage. Tailored for AI, data lake, and database workloads, it brings the power of zero-egress, high-security, and high-performance storage to the forefront.
Züs' Global Edge Storage
What sets Züs apart is its global edge storage, combining both security and accessibility. Users benefit from features like immutability, privacy, and freeze options, making data not just secure, but also easily manageable. Being trustless and open-source, Züs stands as the only open multicloud network that grants the flexibility of switching providers seamlessly or integrating redundancy as per the evolving business needs.
Simple Encrypted Data Sharing
But Züs's innovations do not stop there. With simple encrypted data sharing, users can control both file access and privacy with just a single click. They can further fortify their data by leveraging immutability, freeze, and upload-only options. The decentralized network architecture not only distributes data efficiently but also eradicates vulnerabilities associated with single points of failure. This comprehensive approach significantly minimizes the risk of data breaches.
Transparency and accountability are at the heart of Züs. Every data storage activity is open to user scrutiny, promoting trust and reliability. For businesses, this means they can confidently provide GDPR reports with all activities securely logged on the blockchain.
As the digital landscape evolves, Züs is here, not just as another storage solution, but as a paradigm shift in how we perceive and utilize multi-cloud platforms. Züs is embracing the potential future of multi-cloud solutions.
Blockchain Updates:
Last week, the blockchain team addressed issues related to the earning APIs in 0box. The primary fixes were:
Resolving the graphql deserialize issue where the amount value returned from the graphnode was a string type, while the team previously attempted to parse it as an int64.
Introducing timestamps to all the NFT trading records to allow the earnings UI to pinpoint the time of each trade.
Correcting the issue where empty records were returned when data-points=1.
Adjusting the system to allow a data-points parameter of 0 to return all records.
Fixing the parsing of an empty data-points string.
Modifying the param from and to to utilize timestamps instead of block numbers.
Introducing APIs to support Top/Trending NFTs based on their trading frequency.
Auditing PRs were merged in both the DEX and NFT repositories.
In conjunction with the API enhancements, auditing PRs were merged in both the DEX and NFT repositories. Additional echidna test cases were added to encompass the majority of the code in the NFT store. The team is also delving into the reason behind the sluggishness of the demo network.
Furthermore, issues were resolved and PRs were merged in the 0chain, gosdk, and blobber repositories. The details are provided below:
Multi-Cloud's Future
Züs is leading the way in multi-cloud and creating an alternative to AWS and Cloudfare. With Züs, you have greater control of your data, flexible options that more customized towards user needs, less downtime, and stronger security. Join us tomorrow for our AMA on youtube tomorrow to answer any of your questions!