Welcome to the new weekly debrief featuring insight into development and community progress. Featured is a posting by Sculptex on the intro to the functionality of decentralized storage. This week, we take a peek at what's happening behind the scenes with our developer team. This helps us learn more about 0Box, 0Wallet, and the core blockchain. We also dive into our potential brand reset and website makeover. We hope you enjoy it!
On the Horizon
We will be releasing new repos to the public. This includes such things as on s3, ipfs, s3-migration, and Fuse in the coming weeks. These tools will enable existing users of AWS S3 or IPFS to easily migrate existing data onto Züs, simplifying the adoption process. Meanwhile, Fuse is like a universal storage layer, integrating with an existing Linux operating system similar to an extra drive or folder. Stay tuned!
Sculptex's Corner: Functionality of Decentralized Storage
Would you like to learn more about the functionality of decentralized storage?
Sculptex explains that "although the Web Explorer is working great, to fully explore all the powerful features and understand the functionality of our storage, there is no substitute for using the Command Line Tools (ZBoxCLI and ZWalletCLI)."
For that reason, Sculptex recently developed a small set of tutorials to assist our less technical Ambassadors and some potential partners to understand the way our storage system works 'under the hood'.
"Sometimes the best way to understand something is to try it for yourself. Don't worry if you are not technical, these have been created with you in mind! However, if you've never used the command line before, you might want help from a technical friend to just get you going and build up your confidence.".
To get you started, there are now tutorials for installing the required tools for each of the popular (64-bit) desktop platforms Windows, macOS, and Linux. Make sure to look at whichever one of these applies to you first and then you should have the tools installed to proceed with the others.
Sculptex notes that his "ongoing weekly contribution will mainly be focusing on specific cool features of the Züs platform. By following these tutorials, you will be able to try out some of these features yourself!"
---
Non-Dev Updates
General Overview
While the developer team continues to enhance our underlying infrastructure, our business development team has been hard at work to lay the foundation with new partners. As with our announcement with Clover Finance, we anticipate sharing new partnership updates as they come as well as when within terms of our agreements. This week, we take an inside look at brand reset and website redesign.
Community
Over the next several weeks, we will share upcoming events here as well as share community engagements, such as tweets, artwork as well as events including AMAs. The Züs developers are hard at work, pushing numerous updates to our master repo, and some are beginning to take notice: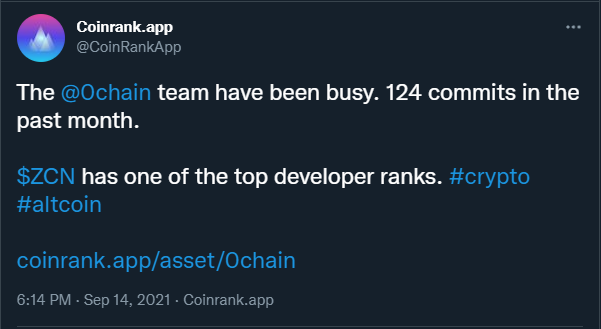 Content (Tutorials, Website, Interface, Branding)
The primary focus currently is a complete overhaul of the website and branding for Züs. The first phase of the brand and logo reset was initiated last week. Accordingly we worked with a high-profile logo/brand designer to complete the look. Currently, the brand reset is in the strategy phase. In a few days will move to a sample phase where we will refine the samples. To coincide with this a full website refresh is also in the strategy phase. Several pieces of interactive explainer content are in the drafting phase and being refined.
The brand reset and website refresh will completely reposition Züs in the broader crypto community. A key focus of the identity is to build an image and UI/UX that matches the quality of our product. We are driving the identity such that 1) the brand is memorable, explains the use case, and can easily be a "meme" of the brand. 2) the website, explainer videos, and apps all have a unified UI/UX that invites you in with the simplicity of something like a Uniswap. This week's progress on logo and explainer drafts is the foundation for this identity.
Growth (Partnerships, Exchanges, Liquidity/DeFi)
While we cannot share certain updates quite yet (partnerships cannot be announced unless agreed upon per a Memorandum of Agreement), our teams are in constant collaboration with our existing and new partners. We have recently completed initial integrations with a few of our partners, such as Kylin Network, and continue to showcase our NFT capabilities to potential clients.
---
Development Team Updates
General Overview
This week we have pushed a laundry list of bug fixes. These fixes have impacts across the core blockchain, storage layer, UI, and CLI applications. These updates work to enhance the functionality of decentralized storage. Ongoing system regression testing efforts are making it much harder for bugs to reach the beta applications. When they do we are hardening our processes and test coverage to ensure it doesn't happen again. This work continues to be in parallel with the additional new features that have also been released this week. This is crucial for the fact that we have an enterprise-ready application. Moving forward we're building rock-solid enterprise dev/QA practices to match that.
0Box
This past week, the 0Box team completed video streaming for 0Box Android. This enables users to watch live videos via the app. The team is now turning its focus to continuing development for 0Box iOS to allow for video streaming capabilities across all devices upon launch.
0Wallet
While the 0Box team made progress on features this week. The 0Wallet team increased focus on bugs that will impact user interaction. The developers have encountered inconsistencies between 0Wallet explorer and 0Wallet Android. These have been marked for fixes and to continue to search for UX/UI bugs. Despite being mostly minor updates, this will impact the user's UI but not the logic of the protocols or applications themselves.
NFT Protocols
The team continues to work on many features of our NFT protocols, including the transfer of ownership. This critical feature allows artists, curators, and potential buyers to identify NFTs that have paid allocations, enabling them to verify their NFT file is currently stored and will continue to be stored following purchase. Following the purchase, the allocation of the NFT can be transferred to the new owner allowing them to not only access the files but also continue the storage allocation to ensure it survives. Current competitors, such as IPFS, cannot guarantee how long an allocation will persist. In the coming weeks, Sculptex will release a demo of creating, sharing, and transferring NFT allocations on our platform.
Blockchain
Züs' blockchain layer, consisting of miners and sharders, has made progress over the past week. Throughout the past several weeks, numerous updates have been made. These include fixing sharder panic issues during block sync, issues leading to potential sluggish blocks, and optimizing network synchronization. In addition, the team is currently in the progress of optimizing miner syncing to enable rapid onboarding during View Change processes. These are important for the blockchain layer to ensure network security and performance during onboarding of new service providers and to prevent stalling of the chain.
Magma
Züs has successfully completed Phase 1 of the Magma project which is a lab demo of a seamless connectivity and billing solution. This works for an operator that has N providers of augmented capacity. In the demo, the user watches a live video and is able to walk into a WiFi Access Point or an LTE hotspot. They are then able to seamlessly switch to the augmented network without a blip on the screen. The smart contracts on our chain talk to the proxies for the Operator and Provider. They exchange messages with Magma, the software developed by Facebook, which is a single integration point between the cellular network and WiFi access points. Once the session is contracted, with data usage from the user, the reward tokens move to the provider's wallet.
Now for Phase 2, we are making changes to our platform for a decentralized augmented network somewhat similar to Helium but with a different offering to fill a gap that is not met, and therefore can co-exist. We will share more details in the coming weeks, so stay tuned!
---
About Züs
Züs is a high-performance storage platform that powers limitless applications. It's a new way to earn passive income from storage.