With an estimated 41 billion IoT Devices by 2027 and over 90% of Executives stating that IoT is critical to their business, there is a dire need for a decentralized data cloud storage solution. Centralized storage systems are approaching their limits while the rate at which data is consumed continues to rise. Züs (formerly 0Chain) offers an enterprise-grade decentralized storage network (DSN) at the edge cloud, at core-cloud prices; all the while maintaining high data availability and redundancy, low latency, as well as enabling data privacy & protection regulatory compliance (GDPR) by design.
"Today, with 150+ storage nodes located in Tier 3 and 4 data centers across the globe and within cities, Züs provides an enterprise-grade decentralized storage network (DSN) at the edge, one that is compliant with data regulations by design. We look forward to leverage and expand this infrastructure through our partnership with Morpheus Labs as we expand into Asia. Morpheus Labs provides a great platform for adoption; developers and enterprises now have a one stop shop to seamlessly leverage and integrate 0Chain storage network into various apps and use cases" — Mo Siam, COO of Züs
Morpheus Labs is a Singapore-based blockchain company providing enterprises with a full-service Blockchain-Platform-as-a-Service (BpaaS) solution for easy prototyping, deployment, and integration. Morpheus Labs is the only end-to-end blockchain platform and app marketplace. With a variety of active blockchain partners, their vision and goal is to find solutions to problems hindering mass adoption.
"Through this partnership, Morpheus Labs and 0Chain are enabling enterprises around the world to harness the power of our products and services on blockchain technology to create flexibility and scalability to deliver unprecedented results and help advance their business potential. We are excited about the many advantages such a partnership can offer to Morpheus Labs' partners network." — Chuang Pei Han, CEO of Morpheus Labs
Morpheus Labs offers a one-stop platform for enterprises seeking various services. The low-code development platform also allows different stakeholders to leverage our service. This allows them to develop specifically tailored solutions for their needs and requirements. Through this partnership, Morpheus Labs will provide its established business network of enterprise customers and research partners with a decentralized storage layer, whose features outlined here, allow for new business cases and initiatives, expanding the business to key industries in all the major markets. The partnership emerges as an opportunity for enterprises to take advantage of industry-leading solutions offered by both entities to scale their business offerings across multiple verticals.
ZüsDecentralized Storage Layer Features: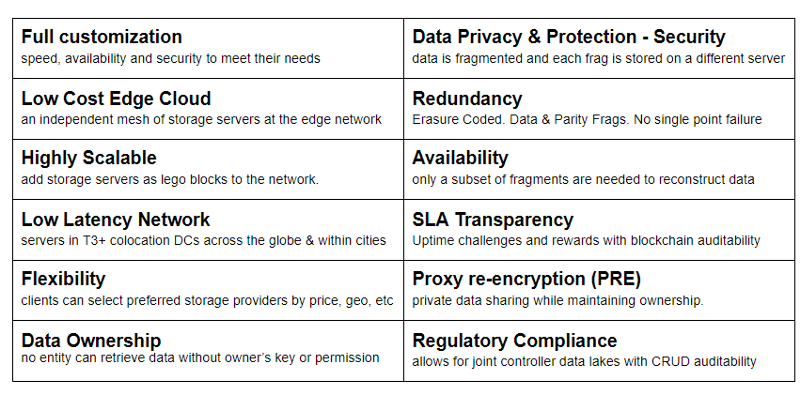 ---
About Morpheus Labs
Morpheus Labs is a Blockchain-Platform-As-A-Service (BPaaS) provider offering mission-critical tools, infrastructure, various blockchain protocols, and blockchain use case references for enterprises and developers to build, experiment, and manage their own applications effortlessly at minimal cost and time. Armed with relevant capabilities, the platform offers a multitude of intuitive solutions. These enable developers and enterprises alike to take advantage of its platform to build effective solutions for various use cases. Start building for free on Morpheus Labs SEED!
About Züs
Züs is a high-performance storage platform that powers limitless applications. It's a new way to earn passive income from storage.